No tule bom mal objavljal svoje zadeve ki se ticejo nasega preljubega hobija. Tekom casa se mi je doma nabralo en kup figur ki so potrebne vsaj osnovne obdelave(beri: sestava konverzije barvanje). Torej da se malo motiviram bom tule zacel novo nit pa poskusil vsaj enkrat na teden kasno fotko objavit. Projektov je dost torej bom kar zacel.
Kaj se lahko pricakuje tu?
Vecinoma marinci. Moja obsedenost s plasticnim crackom se omejuje predvsem na ubermensch vojske 40 tisocletja. Space marines and moah space mahreens! Poleg ze zelo velike kolekcije blood angels marincev, ki so moja primarna vojska, boste lahko spremljali še nastanek dark angels succesor chapterja Guardians of the covenant, ter najnovejsi projekt vanilla space marincev Sons of Medusa, ki pa so, zaradi obseznih konverzij potrebnih za zadovoljitev fluff potreb, se nekako v povojih. Poleg vsega tega pa se še vztrajno prebijam cez morje imperial guardsmenov, ki sestavljajo the proud mordant 9th regiments 5th company! Okol 100 pesakov z svojim oklepljenim spremstvom ter podpornimi elementi vostroyan firstborn veteran squadi. Vsej tej veseli druscini pa se je danes pridruzil the crown jewel s katerim bom tut otvoril tole nit.
knight titan of house taranis.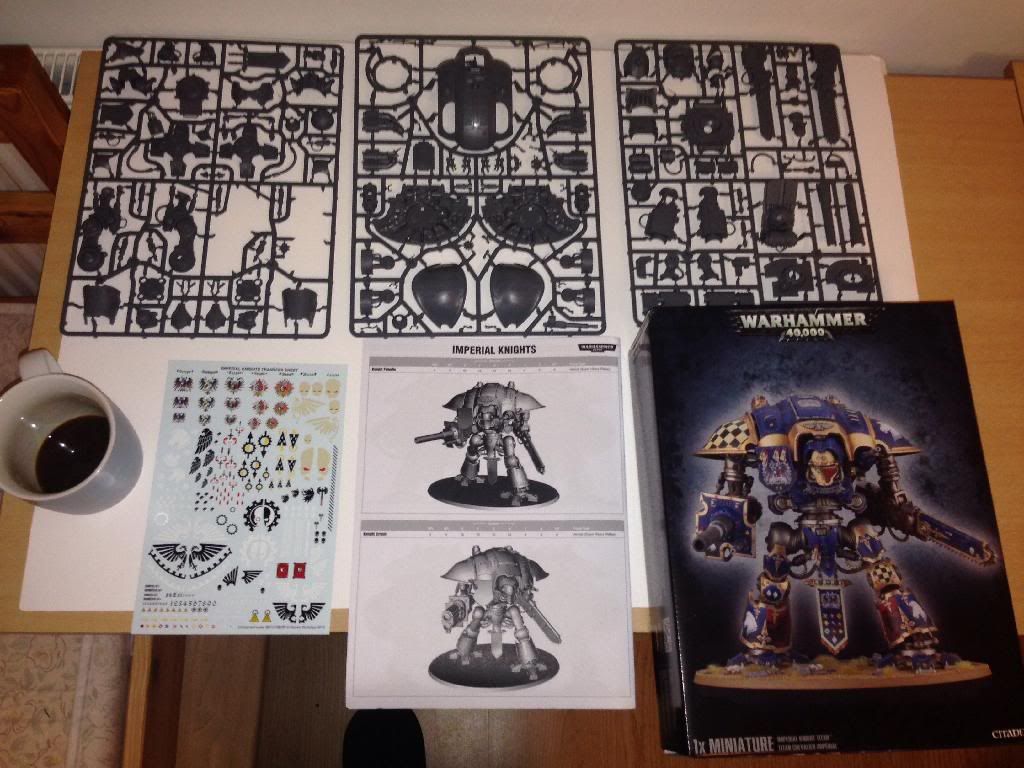 Kava je zravn da ga mogoc se dans sestavim.
zgleda kr konkreten zalogaj tko da upam da mi ga s telim blogom uspe spravit skup. Na zaj ga grem pa sestavt se prej pa v stacuno po lepilo k mi ga je zmanjkal. Grrrr